Magnitude Mattresses
Optimal body support is essential for a good night's sleep. Magnitude pays a lot of attention to the ergonomic development of mattresses. That is why each mattress, together with the chosen box spring, is adapted to the shape of the body. This results in optimal support and comfort. With Magnitude, you can choose from six mattress types with a total of seventeen different hardnesses. The right mattress is selected based on your height, body shape, body weight, sleeping position and personal sleeping preferences. Magnitude mattresses are formed according to the contours of your body, whereby your spine remains in a natural position as much as possible. That's why Magnitude mattresses are resilient and supple. Only then can your body relax completely and you wake up feeling rested. Every person is unique and the right mattress is therefore very important.
Materials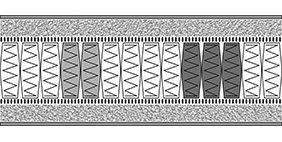 The basis of a Magnitude mattress is the core of pocket springs. This core is available in five or seven different hardness zones. The core is covered with Comfortex, a perforated 50% natural latex, or 100% Talalay natural latex. The special production method of Talalay latex ensures a highly elastic latex core and optimum air permeability. Talalay latex as a covering layer ensures subtle lying comfort and optimum ventilation.
Mattress covers
With Magnitude mattress covers, your mattress stays like new. There are four different mattress covers to choose from, including the Oxygène mattress cover. Oxygen is a proactive and natural solution to house dust mites. Probiotics are applied to each fibre of the mattress cover, ensuring that the dust mite allergens are cleared away and the dust mite's food is completely neutralised. In addition to this anti-allergic effect, there are a number of beneficial side-effects. For example, these ingredients ensure that unpleasant bed odours cannot develop in the mattress. Moulds do not stand a chance either. Oxygen covers are therefore equipped with a natural active bed cleaner with an anti-allergic effect. Magnitude uses natural materials as much as possible for the upholstery.